Healthcare

Education

Finance

Logistics

Retail

Wellness & fitness

Transportation
Models of interaction are adaptable.

High-quality code that is 100 percent accurate.

React programmers who are skilled and experienced.

Observance of the project's timeline.

Complete source code authorization.

Work according to your time zone.

Excellent communication skills.
Extensive Technical Knowledge
Extensive Experience
Methodology for Agile Development.
Delivery on time.
Solutions at a Low Cost
An environment that is adaptable.
The range of knowledge of our ReactJS developers
User Friendly Cross Platform Application
Cross-platform application development
Hire ReactJS developers from WebservX to create strong, user-friendly cross-platform mobile applications.
React JS Integration Services
Migration & integration services
Hire WebservX's remote React JS developers for experienced support in migration and integration of existing web apps and systems.
Expertise Reasct JS UI Development
ReactJS UI development
Hire our qualified and experienced designers to build intuitive designs with high aesthetic value for your applications.
Expert Tester Verify All Problem
QA & testing
Hire our dedicated testers to verify that all problems are repaired and that your program is free of all types of errors before it is released.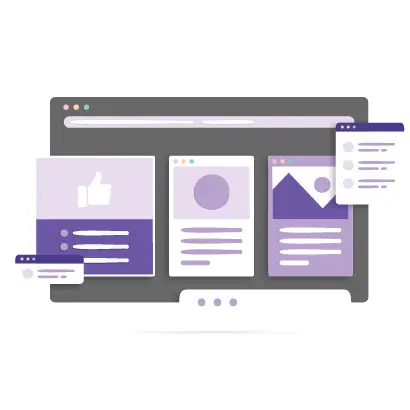 Develop Plugin With ReactJS
ReactJS plugin development
Hire WebservX React JS app developers to create bespoke plugins that will extend the capabilities of your online application.
24*7 Support System
Support & maintenance
WebservX provides support and maintenance services for all of our ReactJS solutions 24 hours a day, 7 days a week. Whatever the problem, our ReactJS development team is only a phone call away.
ReactJS Development Services Where Front-end Evolution Begins
We are pioneers in the production of high-octane web apps, with demonstrated expertise in React JS development services. Hire ReactJS developers with flexible talents that are in line with your company's needs. We thrive on achieving our clients' primary goals, and it has always been our steadfast commitment to providing the most prudent React development solutions that are appropriate for your company.
ReactJS Product
Development
Get bug-free and result-driven custom ReactJS product development services tailored to your company's needs.
ReactJS Front-End
Development
Utilize the expertise of our React front-end developer to create successful SPAs, different architectures, and real-time data exchange applications.
React Native
App Development
WebservX's best ReactJS developers are experts in creating cross-platform native applications with a 100% satisfaction guarantee.
ReactJS Website
Migration
Our remote React developers have demonstrated proficiency in moving or updating your existing web project to the ReactJS platform without data loss.
ReactJS For Enterprise
App Development
Our offshore react developers create scalable and secure solutions for large-scale B2B and enterprise online apps.
ReactJS
Integration
We have a team of talented ReactJS developers who have demonstrated proficiency in integrating your existing web app and system with ReactJS.
ReactJS UI/UX
Development
Choose us as your ReactJS development partner if you want to create a ReactJS application with a fascinating UI/UX and interactive features. For a real-time user experience across all devices, we employ the greatest React component libraries.
ReactJS Plugin
Development
We have a staff of top-tier React specialists who are experts in designing and integrating plugins and modules.
ReactJS Support
& Maintenance
Utilize our on-time maintenance and support services to accomplish your company objectives in every scenario.
Why should you employ our best React JS development team?
Responsive UI
Our ReactJS developers create responsive user interfaces that are compatible with a wide range of devices, operating systems, screen resolutions, and browsers.
On-time delivery
Hire dedicated React JS developers from WebservX who closely adhere to the work schedule to ensure on-time delivery.
Feature-rich solutions
Our programmers use ReactJS technology to create feature-rich websites and mobile applications for you.
Easy Migration
Hire React JS developers to ensure a smooth transition from existing platforms to ReactJS while keeping all business requirements in mind.
Easy accessibility
Because of their 24*7 availability, our remote ReactJS developers are easily accessible from anywhere in the world.
Cost-efficient
WebservX has a dedicated staff of ReactJS developers who are skilled at providing cost-effective solutions.