Are you just establishing your business? Are you looking to upgrade to the next level of growth?  LinkedIn can help.
LinkedIn Marketing is the new platform for professional relationships which strengthens and connects the right people to your business.
In LinkedIn marketing, each campaign begins by choosing the essential objectives across awareness, consideration, or conversions. So here you would get a complete guideline of; What is LinkedIn marketing? How to get on LinkedIn? Why is LinkedIn marketing so important? How to promote your business through LinkedIn? What are LinkedIn Ads?
Firstly let's know what LinkedIn is.
LinkedIn is the world's largest professional network on the internet. You can use LinkedIn to find the right job or internship, connect and strengthen professional relationships, and learn the skills you need to succeed in your career. You can access LinkedIn from a desktop, mobile app, mobile web experience, or the LinkedIn Lite Android mobile app.
Did you know LinkedIn has over 775 million users across the globe? Today this metric alone makes the platform one of the top social networks. 
Is your business using LinkedIn to its fullest potential to improve brand awareness, build your network, boost leads and conversions, and increase revenue? LinkedIn can be a powerful addition to your social media content marketing. With new social networks sprouting up constantly, LinkedIn is a platform that needs to be more fully utilized.
A complete LinkedIn profile can help you connect with opportunities by showcasing your unique professional story through experience, skills, and education.
You can also use LinkedIn to organize offline events, join groups, write articles, post photos and videos, and more.
How Do I Get On LinkedIn?
LinkedIn is an online platform that connects the world's professionals. Here are a few steps to get started on LinkedIn:
Create Your Profile
Signing up and creating your profile is the best way to begin using LinkedIn. A complete LinkedIn profile will summarize your professional experience for your connections, current and future employers, and recruiters. You can showcase your professional life, milestones, skills, and interests through your profile.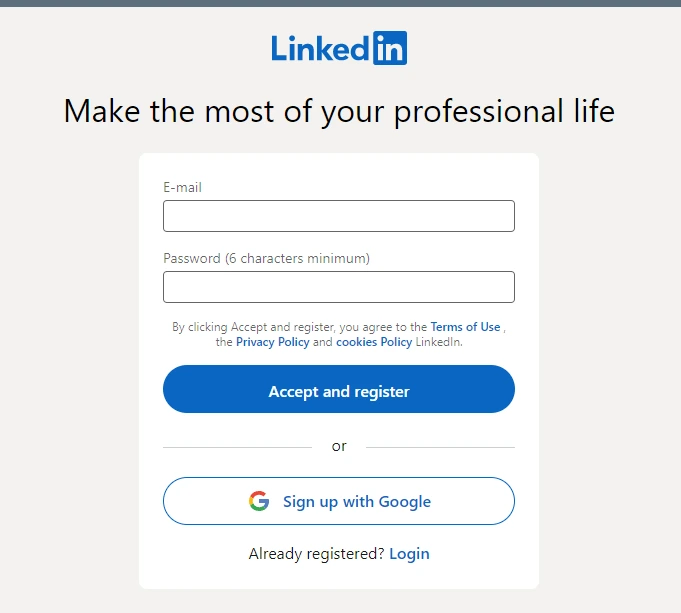 Build Your Network
Your network plays a crucial role in unlocking the power of LinkedIn. It'll help you understand what is happening in your industry and professional circle. You can begin by adding your family, friends, past or current classmates, and co-workers to your network. Also follow people, companies, or topics by navigating directly to the Fresh Perspectives page, which displays recommended sources. You can use the LinkedIn event feature to create and join professional events such as online workshops, seminars, sales and marketing events, networking events, and more.
Find A Job
If you're looking for a new professional opportunity, you can start your job search on LinkedIn. You can use LinkedIn to research companies and reach out to the hiring community. You can also apply directly for roles, save job searches, and notify your connections and recruiters that you're open to job opportunities.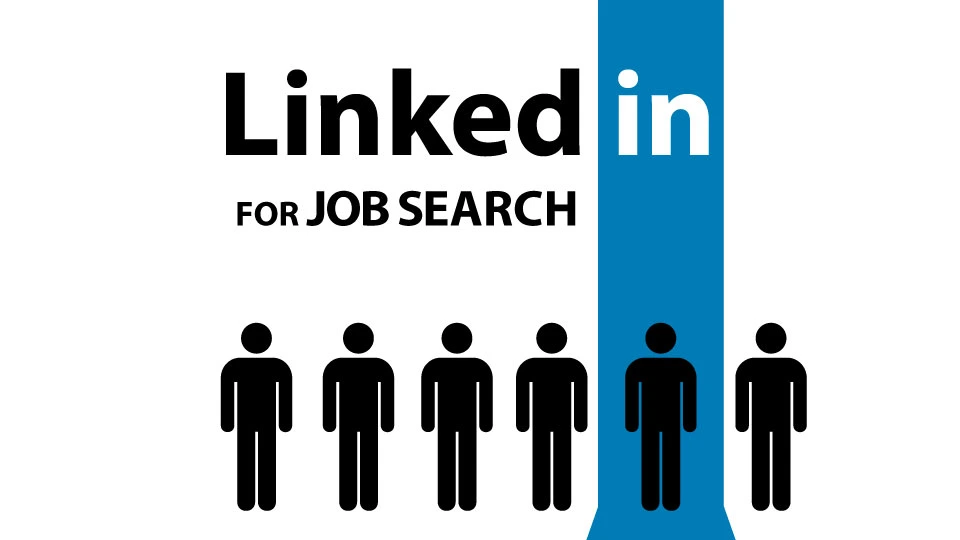 Participate In Conversations
You can easily participate in discussions on LinkedIn. Participating in discussions can allow you to share your perspective on relevant issues and topics with others. You can like and comment on posts and articles on LinkedIn and also create or join LinkedIn groups to connect with and grow with members who share your interests, experiences, or aspirations. You can also use a set of lightweight expressions called LinkedIn reactions to communicate easily with your network.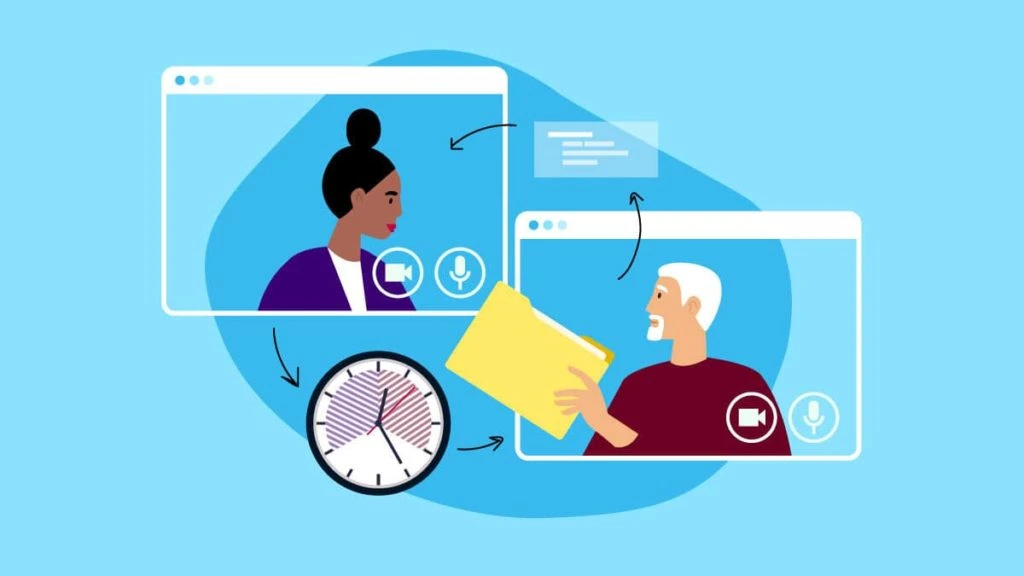 Post Content
Millions of members come to LinkedIn daily to connect, learn, and share. You can share your thoughts and ideas with other LinkedIn members using the share box. You can empower and educate your professional circle with your LinkedIn content.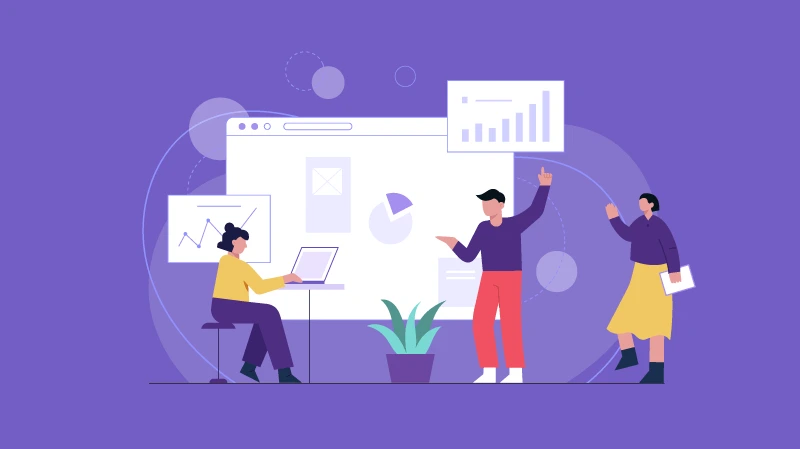 What is LinkedIn Marketing?
LinkedIn marketing uses LinkedIn to make connections, generate leads, improve brand awareness, foster business relationships and partnerships, share content, and drive traffic to your website. LinkedIn is integral to many successful marketing strategies today because it effectively expands professional networks.
When you use LinkedIn to market your business, you gain access to valuable analytics, connections, and brand-building features, to name a few. (Don't worry, we'll briefly review these in-depth.)
Why is Marketing on LinkedIn Important?
Regarding social media marketing, you may be tempted to put all your resources toward the big three: Facebook, Instagram, and Twitter. These are great platforms for reaching your target audience, but excluding LinkedIn is doing your business a huge disservice. Here is the new platform for LinkedIn marketing. As the world's largest professional network, LinkedIn generates 227% more effectively than Facebook and Twitter, so it's an essential platform for your business when it comes to marketing.
But first, here's a quick primer for those new to LinkedIn.
 About LinkedIn
 LinkedIn launched in 2003 and focused on networking, building careers, and sharing ideas. The platform gives its members authority to connect and share content with other professionals, including colleagues, potential employers, business partners, competitors, new employees, and customers.
Why having your company on LinkedIn's marketing platform is so effective—the platform is an excellent marketing tool. 
Best Practice To Do On LinkedIn Marketing
Use a hashtag.
Know when to use your LinkedIn page or profile.
Create posts of varying lengths.
Share external articles.
Keep your publishing schedule consistent.
Use Hashtags
Use appropriate hashtags to emphasize your LinkedIn post, but they serve a purpose that can change your marketing strategy for the better. These phrases, preceded by a hashtag symbol, are goldmines for tapping into new audiences, industries, and niche markets. But using too many or the wrong ones can hinder your reach.
You'll want to balance relevant and popular hashtags by researching on LinkedIn. Use the search bar to query a broad hashtag first.
Know When to Use Your LinkedIn Page or Profile
LinkedIn Pages and LinkedIn Profiles serve different purposes in LinkedIn marketing. LinkedIn Pages can be followed without sending a connection request and waiting for approval. That means when a LinkedIn user shares your Page with their connections, those individuals will be able to track your Page and see your business' content immediately, which has the potential for high engagement.
Pages are public and used primarily by businesses. Profiles are private and used by individuals. Each works with the LinkedIn algorithm, but you'll have different tools you can leverage to grow your audience.
Create Posts of Varying Lengths
Quick, bold posts pack a punch on LinkedIn. Long-form stories capture the readers' attention and lead to a longer dwell time on the app. Both of these types of posts should have a place in your LinkedIn content plan.
Changing the length of your posts and adding images and videos can keep your content fresh and relevant to your network. You'll have content that gets people excited to see what gems you drop next.
Share External Articles
Unlike other platforms, such as Instagram, and Facebook, LinkedIn's algorithm supports external links to blogs and websites. So as long as the content you post has value and is relevant to your audience, you'll find success posting other people's content on the platform.
You don't have to worry about formally crediting the author if you're linking directly to their website, but it's a good idea to tag them in your post or use their hashtag to give credit. Sometimes, they'll share your post with their followers or comment under the post, which introduces your profile to their audience. Isn't it cool?
Keep Your Publishing Schedule Consistent
LinkedIn is a platform that doesn't need a "round-the-clock publishing schedule." What it does require is consistency.
Whether you publish every day, every other day, or even once a week, your network will come to expect your content regularly, which builds trust. Choose a schedule that makes sense for your business and sticks to it for a month. See what days and times yield the best engagement, and make those part of your publishing schedule.
What is a LinkedIn Page?
The LinkedIn Page is the first step in LinkedIn Marketing. A LinkedIn Page allows you to represent your organization on LinkedIn. Pages can help LinkedIn members learn about your business, brand, products and services, and job opportunities.
So here are some steps to creating a LinkedIn page:
Click the Work icon in the upper-right corner of your LinkedIn homepage.
Scroll down and click "Create a Company Page."
Select the page type:

Company
Showcase page
Educational institution

Enter your Page identity, Company or Institution details, and profile information.
Check the verification box to confirm that you have the right to act on behalf of the company or school.
Click the Create page button.
If you receive a red error message, try our troubleshooting tips for creating your Page.
Click "Start building your page!" to finish building your LinkedIn Page.
How To Do Marketing On LinkedIn
Use saved searches and search alerts in LinkedIn Recruiter.
List job opportunities and recruit new talent with LinkedIn's job postings.
Take advantage of LinkedIn endorsements.
Use Open Profile to send messages to people you're not connected with.
Export connections.
Customize your links to grow your professional network.
Join LinkedIn Groups.
Create your own LinkedIn group.
Communicate with your LinkedIn group.
Share your LinkedIn status updates on Twitter.
Leverage @mentions in your status updates.
Make a LinkedIn showcase page.
Post company status updates and targets them.
Check out LinkedIn's content marketing score and trending content resources.
Experiment with LinkedIn Sponsored Content and Native Ads.
Share content through LinkedIn's publishing platform.
Add a "Follow This Page" button to your website.
Analyze your LinkedIn marketing performance.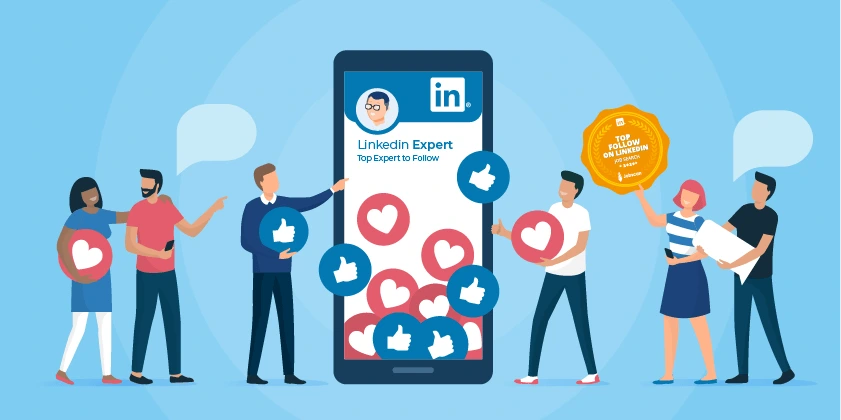 The LinkedIn Ads Platform has ad types to meet all your marketing objectives:
It generates leads, drives website traffic, and builds brand awareness with LinkedIn ads.
LinkedIn Marketing helps you engage a community of professionals to drive relevant actions for your business.
Tools to Grow and Stand Out in The Evolving World of Work and Engage Your Community
Establish your brand with a free company LinkedIn Page, attract followers, and build brand awareness by posting content on the Page.
Manage your LinkedIn ads with Campaign Manager to Create, measure, and optimize LinkedIn ads all in one place. Campaign Manager is the LinkedIn advertising platform that streamlines all your marketing efforts.
Promote Your Business with LinkedIn Ads
Reach your ideal customers on the world's largest professional network by following these steps:
Sponsored Content
Sponsored Messages
Dynamic Ads
Text Ad
Sponsored Content
What can sponsored content do on LinkedIn?
Capture attention in the feed and engage your target audience of millions of professionals where they spend their time—the feed.
Complete all objectives; whether you want to build brand awareness or drive leads for your business, this format can do it all.
Gain insight into your impact, measure your native ad performance and learn about the demographics of your target audience.
Sponsored Content Ads Come in Different Formats
Single image ads: capture attention with a powerful visual.
Document ads: inspire audiences with thought leadership or collect leads at scale with your documents.
Video ads: capture your audience with sight, sound, and motion.
Carousel ads: tell a story with a swipeable series of cards.
Event ads: maximize attendance with a format optimized to highlight event details.
Ways to Use Sponsored Content
Share thought leadership: Share sponsored content that your brand is passionate about and your industry knowledge.
Showcase your products and services: Highlight new products or share best practices to drive interest and engagement.
Promote an event: garner interest and grow attendance for upcoming events.
Sponsored Messaging
Engage your prospects in LinkedIn Messaging, where professional conversations happen.
What You Can do With LinkedIn Sponsored Messaging
Reach Your Audience in a Personal Way
Send one-on-one messages to your target audience's LinkedIn Messaging, where they're increasingly spending most of their time – and when they're most engaged and in the right mindset.
Keep Prospects Engaged in Driving Quality Results
Deliver interactive LinkedIn messages that make it easy for prospects to get the content and offers they want when they want them. Share an event registration, promote a free product trial, or educate them about your offerings.
Accelerate Your Lead Pipeline
Drive more website traffic and generate more leads with interactive features like lead generation forms and automated calls-to-action.
LinkedIn Sponsored Messaging Ads Come in Two Formats
LinkedIn message Ad
Conversation Ad
Dynamic Ads
Engage prospects with ads that are automatically personalized for them.
What Can You Do With LinkedIn Dynamic Ads?
Personalize the Experience for Your Audience
Get people's attention with customized ads that include information from each professional's LinkedIn profile, such as a photo, company name, job title, and more.
Scale Automate Individualized Campaigns
Launch campaigns quickly using automatically and individually populated Dynamic Ads throughout the LinkedIn desktop.
Ads Should be Tailored to Your Marketing Goals
Customize your ads to build brand awareness, drive traffic, and turn prospects into customers. You can then use Campaign Manager to measure and improve your results.
Text Ads
Text ads drive new customers to your business on a budget that works for you with our easy, self-service pay-per-click (PPC) advertising platform.
Features 
LinkedIn Text Ads Drive The Right Traffic to You
Get your business in front of the audiences who matter most and lead them to your website or landing pages with PPC ads.
Generate Quality Leads Using Text Ads
Fine-tune your targeting options to reach the right people and drive high-quality leads with a PPC campaign.
Pay-Per-Click or Impression
Set your budget and control costs with pay-per-click (PPC) or cost-per-impression (CPM) pricing options.
What You Can Do With Text Ads:
Choose the professional audience you want to reach.
Easily create your PPC ads.
Set your budget without contracts or long-term commitments.
Pay for only the text ads that work—per click or impression.
Track the number of leads you're getting from your PPC ads on LinkedIn with conversion tracking.
Some of The Best LinkedIn Marketing Tools For Increasing Sales or Page Views That You Should Not Overlook
SocialPilot is a marketing tool for LinkedIn that takes care of all your needs, like scheduling posts in bulk, working with your social media team, finding great content that gets people to interact with you, and setting up your visual media campaigns.
What differentiates SocialPilot from other LinkedIn tools is that it offers LinkedIn analytics, which can be easily converted into a PDF report and shared over email with clients and colleagues. The comprehensive analytics feature gives audience insights, identifies top-performing content that gets the most engagement, discovers influencers, finds the best time to post, and much more.

Crystal is the world's largest personality assessment platform that helps you understand the personality differences between you, your colleagues, and your customers. Social selling is all about personalization and meaningful interaction. This LinkedIn marketing tool helps you leverage this by giving you access to several personality profiles. You can use these to target specific audience sets effectively.
IFTTT is an acronym that stands for "If This Then That." This LinkedIn marketing tool allows you to automate specific tasks via third-party apps. IFTTT has predefined recipes that are used for LinkedIn automation.
With these particular commands or recipes, you can schedule your social media posts to the exact hour, share your LinkedIn post on Facebook with a specific hashtag, share a tweet every time you publish a post, and so on.
AeroLeads is an excellent LinkedIn marketing tool that brings you closer to your leads. Get access to business email addresses and phone numbers to connect with your prospects immediately. Automate your lead generation process with Aeroleads. Customize your messages to make them even more impactful. It also integrates with top CRM solutions.
SalesLoft integrates many sales tools and can be used by both beginners and professionals. It integrates with different data types across multiple channels, streamlines your workflow, and helps you understand your audience for better targeting. This LinkedIn marketing tool lets you personalize your sales strategy and provides data-driven results to tell you where your sales strategy should go.
LinkedIn Sales Navigator helps you find relevant leads for your business. It also offers sales insights, so you have the correct information before making a decision. It provides lead recommendations customized as per your target audience and particular needs. Helps you dig deeper into results for complex search queries. It also updates you with real-time sales dynamics.
Dux-Soup is a LinkedIn marketing tool that is used for lead generation. With the help of this tool, you can automate your prospecting work by having the device view your prospects' profiles, follow their activity, send them personalized messages, and endorse their skills. You can also add customized notes and tags to jot down your observations on specific prospects.
Leadfeeder is a website traffic tracking tool that lets you see which companies or individuals visit your website and their interests.
It can help with easy conversions as you target those leads that are looking for you. You can link it to your CRM, analytics tools, and email marketing for enhanced data gathering and reporting.
Some of The Best Examples of LinkedIn Marketing Through Ads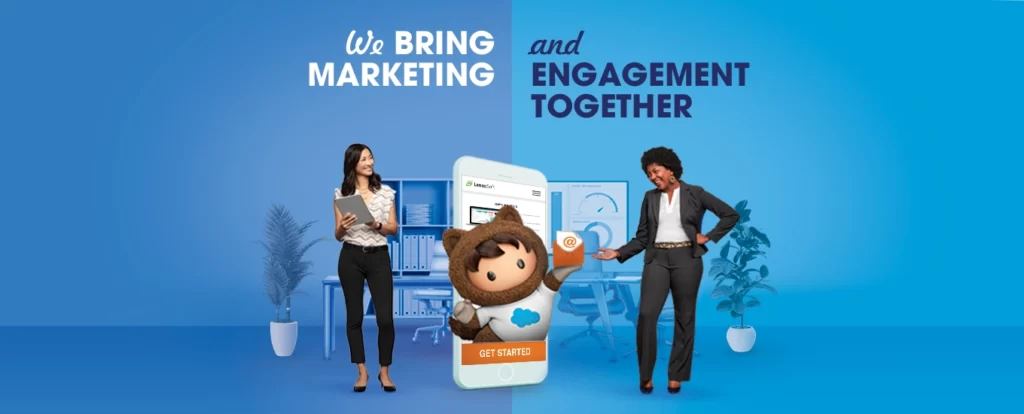 What stands out in this ad?
An excellent awareness play for Salesforce, each card featured a value proposition. You can see the salesforce branding colors and logo from a mile away. The simple, straightforward ad looks vibrant, unlike the typical "boring" creative. It's no wonder there's so much engagement on this post.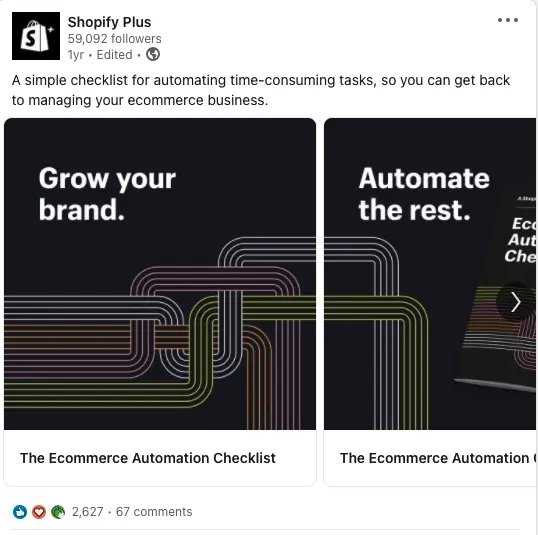 What stands out in this ad?
The value exchange is transparent, and the benefits are immediate. I love the action words they're using on each card too. Wouldn't this resonate with you if you're overwhelmed with running an e-commerce business?
What stands out in this ad?
Godaddy shows us that It doesn't always have to be about Products and services. Showcasing inspiring stories of your customers generates good awareness. Keeping your brand top of mind is more important than hard selling and cold calling. You can't force people to buy. But you can inspire them and give them a reason to follow you, which will, in turn, lead them to believe and buy from you.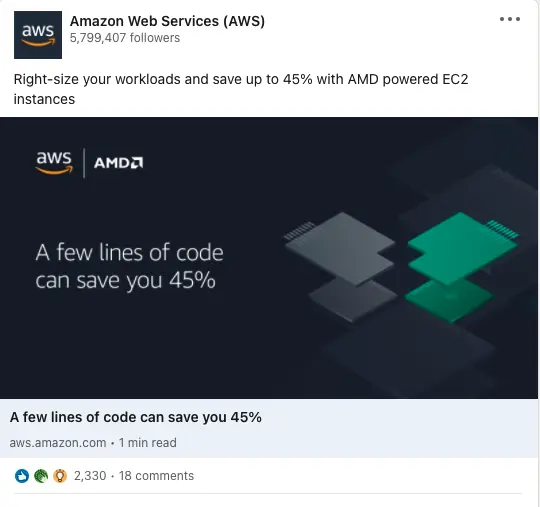 What stands out in this ad?
The message is so clear and straightforward. "Save 45%". That has intrigued me to find out what I'm going to save. That said, if this was a direct response lead generation campaign instead, then the message could be more precise. Because advertisers only pay when the lead generation form is open, being more apparent upfront is more important for that objective.
What stands out in this ad?
The same theme as before. The value you get from downloading is clear. I love how this brand focuses on original research and data. Or at least they are sharing their point of view.
Clients always want leads, even before creating awareness. Is it possible? Global Web Index shows us it is possible, although not ideal. And how they cut the lead generation process through thought leadership. It is authentic thought leadership where they share their insights, research, and data. Their point of view and their ultimate guide that no one else has. No third-party syndicated content that everyone has.
What stands out in this ad?
The workday started with a provoking question. Then provided the answer, but not just any solution. Then they offered a socially validated solution (By 500 leading CFOs). The headline is clear about what the audience will get, which is the CFO sentiment study.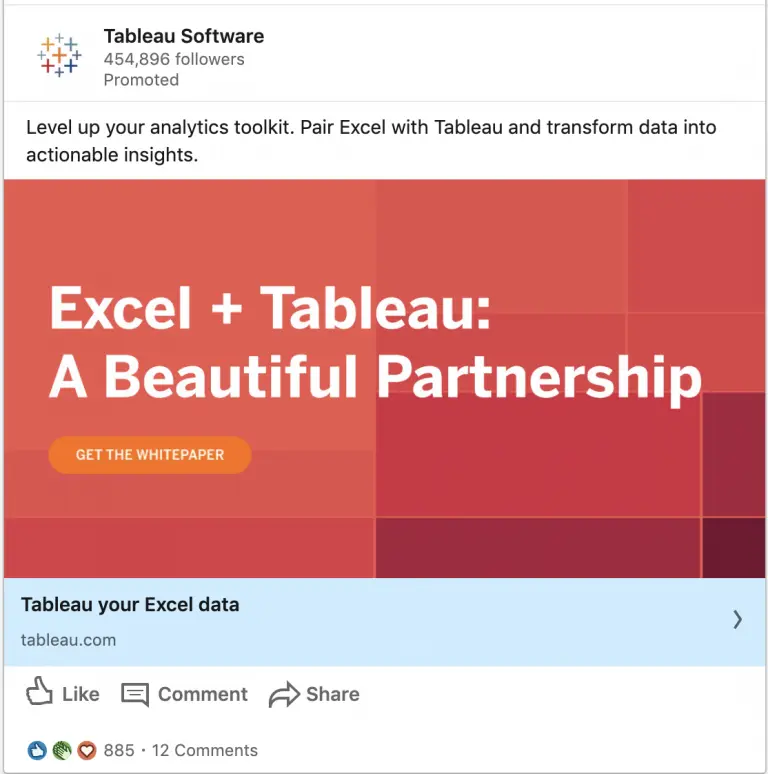 What stands out in this ad?
The bright colors and the text-only ad makes this unique. Remember that Linkedin does not have a text limit on creatives as Facebook does. If you're a marketer with partnerships with other companies, ads like this would be best for you. Although the call to action is evident with "get the whitepaper", they could have done better by saying what's in it. Is it a tutorial? Is it a set-up guide? Overall, this is still brilliant.