Optimizing your content to rank higher in search engines can be tedious, especially when there are many factors to consider.
We can predict AI writers in our future books; it may mark 2024 as the year that generates artificial intelligence in the mainstream and starts using it in businesses.
Fortunately, AI SEO tools are available to Streamline SEO optimization and boost your website ranking. 
We have a survey that more than 1400 marketers learn how to use AI tools. Here are some of the static they use AI we found.
Most businesses and marketers reported that more than 50% use generating AI to conduct research.

+45% of marketers use AI generators for content creation.

22% of content creators say

"YES"

that they use AI to create new and unique content ideas.

70% use AI as essential to their marketing strategy.
So what does this statistic mean and tell us? 
Essentially, AI plays a prominent role in the workflow of various businesses and marketers. 
If you want to stay competitive as SEO continues changing market place, it is the right time to consider AI tools to help your brand and business.
So it is essential to find which one has the features and insight to deliver the ranking and visibility of your business or website needs.
Consider, How AI can help your Business and brand?
AI tools can help you to analyze large amounts of data, identify trends and insights, and generate new ideas and suggestions. 
It also helps your brand create unique and original content that stands out from the crowd and resonates with its target audience.
You might be aware of the term SEO, but the question is: What is AI SEO?
AI SEO is a type of Search Engine Optimization that uses artificial intelligence to improve a website or webpage's organic performance.
Many AI SEO tools can analyze your website performance and offer solutions to the areas that need improvement. 
If you're looking for AI SEO tools to help your site rank high in SERP, there are numerous tools, from content creation to keyword research to visual creation.
Best SEO AI Tools 2024
Users need AI tools that don't only help in content marketing but also need to be efficient software that can easily be integrated with the existing workflow.
Most of the AI tools on our list use the same model and algorithms (Open AI), the libraries behind the ChatGPT.
So pay attention to how the models and algorithms are available to users. Having AI doesn't mean much by itself; it is really about "HOW" the platform uses AI that matters.

1. Surfer SEO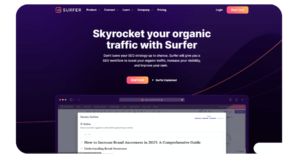 Refers to itself being a content intelligence AI tool. It combines content strategies, creation, and optimization in a single toolset to increase organic search and traffic.
Surfer SEO helps you to grow your business and brand. The platform has all the latest AI SEO tools to help users outline, generate and optimize content.
Surfer SEO focused on SEO strategies for keyword placement and content optimation efforts with a robust Search engine result page tool.
It has AI content and outlined generators to help you rank on search engines and tasks for improving your SEO strategy with the full suite of traditional SEO tools.
Surfer SEO offers a one-month free trial with multiple paid offers you can choose from according to your business requirements.
2. Click Up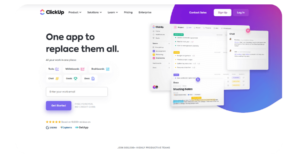 Wouldn't it be great if you have a robust set AI tool that is SEO centric content creation tool built right into unified and flexible project management and collaboration platform?
That's precisely what Click Up delivers. 
You might be thinking, What sets Click Up AI apart from other SEO AI tools?
They are its prompts for various departments, not just limited to SEO optimization.
Click Up have specific prompts to help terms with their overall SEO strategy through brief tool creation, keyword research, content optimization, and competitor analysis.
Here are some of the best features that make Click Up apart:
Leverages the latest natural language processing for AI-generating content that anticipates the reader's search intent. 

SEO keyword research tools for the suggestion and SEO project templates.

AI writer that understands all the needs of SEO optimization built with a comprehensive set of copywriting and content optimization tools.
Click Up is Free Forever and offers paid plans for businesses and enterprises.
3. Jasper 
Jasper is a Content-Creation Tool with an AI engine trained to generate creative and original content for website copy, social media posts, and blog articles. 
The AI-generated content system produces content that reflects your company's brand voice by improving website ranking.
Jasper AI SEO tool is the best for creating content prompts, so your text is specially tailored to your lines of business and targeted audience, as it is an AI engine that can be trained on a company's brand voice to reinforce brand messaging.
It supports short and long-form content creation by serving preference copywriting skills that produce specific types of content. 
Jasper supports AI writing in 25 languages and offers a 7-day free trial with other paid options you can choose according to your requirements. 
4. Pagespeed Insights
Page speed is essential in how high your website ranks in the SERP because search engines don't want to send users to slow-loading websites. 
Pagespeed Insight is a Free tool provided by Google for all website owners to examine how Google assesses their page speed. According to the fact, Page speed has played an important role in Google's ranking since 2017.
5. Nitro Pack
Nitro Pack improves the performance of HTML, CSS, and Javascript and supports WordPress, OpenCart, WooCommerce, and other websites. 
It improves your site's search ranking by increasing the website speed with its advance caching mechanism and tools to accelerate the loading of images. 
It helps you to integrate page loading time with comprehensive image optimization tools, including automatic conversion to WebP format.
You might be thinking, What makes Nitro Pack different from other AI tools?
Plugins make implementation simple and approach speed optimization with multiple features. It offers multiple price options; you must choose it according to your requirements and budget.
Business: $21/month for one website 

Growth: $51/month for one website 

Scale: $176/month for one website 

Custom: Contact for pricing.
6. Alli AI
Alli AI offers a solution for optimization, automation, and deployment in a single platform. It's designed for agencies, enterprises, and large organizations.
It monitors and offers suggestions for codes and content on the more extensive website by adding this software to your website, enabling on-page optimization. 
Some of the best features of Alli AI are:
Embedded automation code into your web pages.

Deploys code changes across a site.

Do content editing on-page.

Do site speed optimization.

 Automatically generate page titles with automated A/B testing.
 It offers multiple price options; you must choose it according to your requirements and budget.
Consultant: $249/month for 10 sites and users

Agency: $499/month for 25 sites and users

Enterprise: $999/month for unlimited sites and users
7. Byword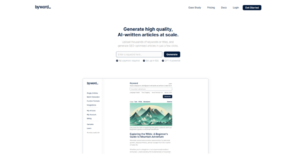 Byword uses natural language processing and machine learning algorithms to generate content and support 9 languages. 
It is an AI content generator focused on SEO article creation. Users can feed its targeting keywords and define a writing style; the software does the rest. 
It allows users to define their writing style and support the background process, generating multiple articles simultaneously.
Byword offers multiple price options; you must choose it according to your requirements and budget. 
Starter: $99 for 25 credits/month

Standard: $299 for 80 credits/month

Scale: $999 for 300 credits/month

Unlimited: $2,499 for unlimited credits
(Generating one story costs One credit)
8. Frase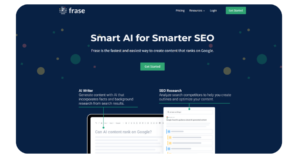 Frase admits itself as an intelligent AI to deliver the easiest and fastest way to improve your content ranking on Google.
It has in-built tools that create brief content and then write optimized & analyzed content. Frase's content generation tools leverage AI templates to shape text to fit your requirements. 
Frase helps you to analyze SEO that is easily accessed and do competitor analysis with a well-considered and intuitive user interface.
It offers multiple price options; you must choose it according to your requirements and budget. 
Solo: $14.99/month per user, four articles 

Basic: $44.99/month per user, 30 articles

Team: $114.99/month, three users, unlimited articles

Enterprise: Contact for pricing
9. OutRanking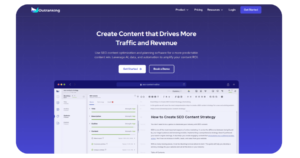 OutRanking is an AI SEO tool that addresses all your organic traffic and engagement issues. It is an automatic, simple, and hassle-free content-creation tool while at the same time helps you to target organic content through SERP analysis.
It makes SEO a priority in every content generated from your websites, such as blog outlines, briefs, titles, and omnichannel campaigns. 
Aside from these Concepts features, the tool also has Comprehensive SEO content editors, which you can use for your SEO. OutRanking does all its jobs efficiently with the lowest-cost option. 
It offers multiple price options; you must choose it according to your requirements and budget. 
10. INK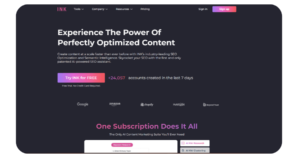 INK is an AI writing tool that learns from your competition so you can write, rewrite, edit, and simplify brand content that outranks your competitors.
This AI tool is an SEO assistant by finding keywords to enhance and optimize your content. It features keyword research, AI writing, outline generation, and more. 
INK SEO assistance helps you to generate SEO-focused content based on current keyword trends and algorithms. 
INK offers a five-day free trial. If you're willing to commit, plans start at $39 monthly, billed annually.
11. SE Ranking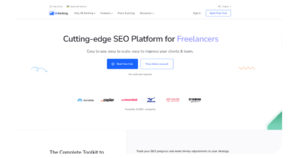 SE Ranking is an excellent AI-powered tool for creating a robust On-page and Off-page SEO strategy. 
It features comprehensive tool sets for keyword research, backlinks, competitor analysis, search traffic, and social media performance analysis. 
It offers white-label solutions and API-based SEO reports, which make it an ideal tool for marketing agencies or enterprises. 
Moreover, its built-in Lead Generator feature helps you optimize your website conversation rate. Some of the key features include Page change monitoring, website auditors, and an index checker.
12. Copy.ai
Copy.ai is designed for SEO professionals that revolutionize the content creation process. It offers a user-friendly platform where you can generate high-quality copy to meet your specific needs in just a few clicks.
You can create content for various purposes, including website content, social media posts, ads, e-commerce descriptions, and more. 
The versatility of Copy.ai shines through its ability to cater to diverse content requirements whether you are working in any field. It doesn't limit your creativity; it fuels it.
Copy.ai offers the flexibility to rerun the tool for more options or edit the copy to fine-tune it according to your preference and speech. It serves pre-built prompt templates and 95+ language options.
It offers free forever for 2000 words; if you want to commit to unlimited words, there are other options. Pro: 7-day free trial starts at $49 per month.
13. Scalenut
Scalenut has an in-build keyword planner, SERP analyzer, SEO article writer, content optimizer, NLP technology, and more. It is an all-in-one content creation tool.
One of its outstanding features is the Cruise Mode, which generates 1,500+ word articles within seconds. So, if you require long-form content like blog posts, articles, and ebooks, this might be your best option. 
Scalenut provides real-time optimization suggestions as you create and edit content or articles with competitor research, performance tracking, and reporting.
It offers 7 days of free trial for all the plans, paid subscription starts at $23 per month.
14. ChatGPT
ChatGPT is an intelligent chatbot network trained for millions of conversations. It is an open-source AI Conversational system. The language model can answer all your questions and assist you with tasks.
According to estimate analysis, ChatGPT is the Fastest-Growing App of all time, reaching 100 million active users in just 2 months.
It is easy to use with just a few lines in the existing application. 
ChatGPT is free to use; there is a subscription option that you can take advantage of costs $20/month.
Found this useful? Check out these Top 5 Alternatives of ChatGPT.
15. Hubspot AI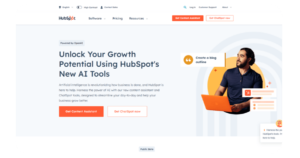 Hubspot has numerous AI tools that help you create optimized website content that will rank high on search engines. 
No more writing blocks, switching between manual and AI tools, or learning new ones. 
Hubspot AI content assistant helps users to toggle between manual and AI content creation to generate copy for their website blog posts, loading pages, marketing emails, and much more. 
It offers multiple price options; you must choose it according to your requirements and budget.
Starter: $20 per month

Professional: $890 per month

Enterprise: $3600 per month
Start Integrating AI Tools Into your SEO Project
The world of SEO is constantly changing, rapidly evolving, and embracing new technologies (AI Tools) that can help you to stay ahead of your competitors. 
Whether you are a content writer, marketer, or business holder, using some tools can drive significant results for you and your business.
SEO is a long-term strategy for generating more organic traffic; it can't deliver results so fast. In that case, complement your SEO efforts by investing in Performance marketing.
Which tool is your favorite from our list and why? Let us know.